Who was Arthur Lewis?
17 Sep 2014
Arthur Lewis is best known as one of the founders of development economics and when he joined The University of Manchester in 1948, be became Britain's first black professor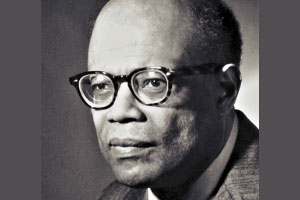 He went on to complete most of his important work at the University and in 1979 was awarded the Nobel Prize in Economic Sciences. 
The Arthur Lewis Building is named in his honour and on Tuesday, 23 September 2014 a mural commemorating him and his work will be unveiled on the outside of the building by prominent members of the University including the President, Professor Dame Nancy Rothwell and Economist Jim O'Neill, Honorary Professor of Economics. 
Professor O'Neill is committed to carrying out a range of activities at the University and prior to the mural unveiling he will be participating in the Postcolonial Atelier Series on Development to debate the Complex and Changing World Economy before going on to deliver the Arthur Lewis Centenary Lecture that evening.   
For further details on the mural unveiling and to register to attend please visit:
Or to attend the postcolonial debate please visit: