Manchester Museum seeks enthusiastic singers for a weekend of Wonder
16 Sep 2014
Manchester Museum is looking for keen singers to join a special volunteer choir which will participate in Wonderstruck, an exciting weekend of live music and performance taking place on Saturday, 15 and Sunday, 16 November 2014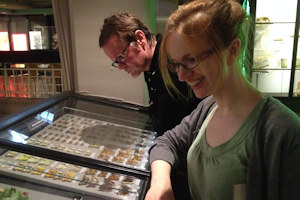 Wonderstruck has been commissioned by Manchester Museum and People United, a pioneering charity which develops projects around the role the arts can play in developing a kinder society.
The project will be created by writer, director and performer Daniel Bye, director Sarah Punshon and writer and musician Boff Whalley, of Chumbawamba fame. Wonderstruck will feature original songs and performance inspired by the Museum's collections, to create a weekend of surprises and wonder for museum visitors.
The Museum is putting together a special choir of volunteer singers to take part, alongside existing Manchester based choirs and drama groups. These singers will perform music written specially for them, in the beautiful museum spaces, alongside existing choirs such as Golden Voices, the all-female She, the Manchester schools Network Choir, andthe Ordsall A Capellas.
On Saturday, 27 and Sunday, 28 September, 1.30-4.30pm, the Museum is hosting two workshops, where volunteer singers can come along, meet the Wonder team, try out a song, find out more about the project, and decide if they want to take part. Both events are the same and each last for the full three hours, so people can choose which day to come along.
The Wonderstruck choir welcomes all keen singers, male or female, old or young. Singers don't need to be able to read music, or be excellent singers; they just need to be happy to sing a capella, available for some evening and weekend rehearsals in November in advance of the Wonderstruck weekend, and be open to having some fun and trying something different!
Introductory singing workshops
Saturday, 27 September (1.30-4.30pm)
Sunday, 28 September (1.30-4.30pm)
Free and no need to book. Each session is the same and lasts for the full three hours: people are invited to come along on either day.