President visits Melbourne and Hong Kong
16 Sep 2014
Professor Dame Nancy Rothwell will be giving the prestigious Sir Robert Menzies Oration on Higher Education at the University of Melbourne today (16 September)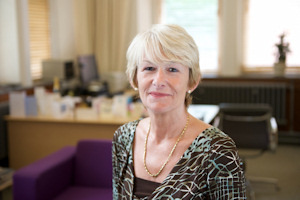 Professor Rothwell will be giving the Sir Robert Menzies Oration in Melbourne today on the theme of "A Life in Science (and Art)", outlining her belief that the arts and sciences have more similarities than differences.
She will also cover her career, including her own research into stroke and her experiences as a university vice-chancellor, often characterised by finding solutions to unexpected problems.
Sir Robert Menzies retired in 1966 as Australia's distinguished and longest serving Prime Minister. In recognition of his vision and leadership, and to strengthen the role of higher education in Australia, the University of Melbourne and the Menzies Foundation established the Sir Robert Menzies Oration on Higher Education.
In delivering the 2014 Menzies Oration, Professor Rothwell follows eminent Vice-Chancellors from Australia and worldwide who have been invited to speak since its inception in 1991.
The University of Manchester and the University of Melbourne recently established a funded mobility scheme to facilitate the development of collaboration across research, teaching and professional support between the two institutions over the course of the next academic year; the President's visit will build on this engagement.
Professor Rothwell will then travel on to Hong Kong for meetings with key institutions, including the University of Hong Kong, Hong Kong Polytechnic University, Hong Kong University of Science and Technology and the Chinese University of Hong Kong accompanied by a senior figure in the University's Hong Kong Foundation, Dr Eric Li. An alumni event, overlooking Hong Kong Bay, will conclude her visit.
Professor Rothwell said: "I am delighted to have the opportunity to visit Australia and Hong Kong during and honoured to be invited to give this year's Menzies Oration. The University of Manchester prides itself on being a truly international university and this visit presents an invaluable opportunity to consolidate our links with Melbourne and institutions in Hong Kong and to celebrate the success of our esteemed alumni."