Manchester Student Homes Awards – winners announced!
11 Sep 2014
Thanking our local community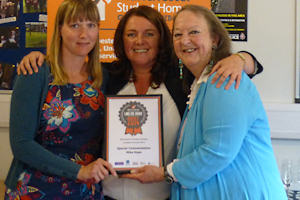 The Manchester Student Homes Awards have been established to recognise accredited landlords who provide students with outstanding service and members of the community who help make Manchester a great place to live.
Students were given the opportunity to nominate their landlord or private hall for the award, and the Good Neighbour category was voted for by students and local residents to recognise individuals and organisations that have made a positive impact on the local community.
Garry Rafferty and Allwright Student Lettings were selected as joint winners of the Landlord Award and Sanctuary Students Grafton Street took the top prize in the Private Hall category.  They received great feedback from students who praised their professionalism and excellent customer service.
There was also a joint winner of the Good Neighbour Award with Helen Aczel and Love Withington Baths both picking up awards for championing local causes. Helen has been a dedicated member of the South East Fallowfield Residents' Group for over 30 years and Love Withington Baths have been working tirelessly to help save the facility which has been threatened with closure. Withington Baths have been an integral part of the local community for over 100 years and with the help of the group it is hoped that the Baths will be enjoyed for many more years to come.
There were also special commendations to Mike Hope and Enid Phipps who both sadly passed away earlier this year. Mr Hope was an exemplary landlord who was a valued member of Manchester Student Homes accreditation scheme since the organisation began and Enid Phipps was a dedicated community member in the Medlock area.
Cooper Healey, the Manager at Manchester Student Homes, said: "It's been great to receive positive feedback from students about their accommodation providers and there have been some excellent nominations this year.
"Landlords who join the scheme already have to meet high standards but it's great to hear about landlords who really do go above and beyond to deliver a high level of customer service. The response to the Good Neighbour Award has also been excellent and it's been wonderful to learn about all the great work students and local residents are doing in their local communities.
"We would like to thank everyone who made a nomination and helped make this year's awards a great success."
The awards presentations were held at the Manchester Student Homes office and refreshments were donated by Sainsbury's in Fallowfield.