Alex Waddington walks around the clock and around the Peak District for charity
11 Sep 2014
Keen walker Alex overcame the worst obstacles that the Peak District could throw at him when he tackled the Bullock Smithy Hike last weekend - and raised a target-busting sum for cancer support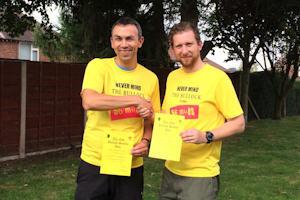 Alex, who works for Policy@Manchester, finished the 56 mile circular walk, in 21 hours 50 minutes, well inside the time limit of 24 hours. He was one of 170 people (out of 230 starters) who finished the route, which begins in Hazel Grove, and passes through Macclesfield Forest, Miller's Dale and Castleton before heading back to Hazel Grove.
He limped over the finish at with ankle blisters and toe blisters, Achilles tendonitis and a twisted knee, while friend and colleague, Pete Morris (Student Communications and Marketing Manager in the DSE), who accompanied him on the walk, ended up with severe blisters all over his feet.
Alex had to contend with changeable weather, starting out in drizzle, then walking for a while under clear, bright moonlight until midnight and finally pressing on in the face of mist and rain from 1am until daybreak.
But it's all been worthwhile: to date, Alex has raised £4,100, smashing his original target of £3,000. The money will go to Macmillan Cancer Support and Strathcarron Hospice near Stirling, which both provided support for his father, Richard, before his sudden and unexpected death earlier this year.
Alex said: "It was without doubt the hardest thing I have ever done but the atmosphere was brilliant, and I was proud to complete my challenge in memory of my dad. Pete was brilliant company, keeping me going with his homemade flapjack, encouragement and chatter – and our friendship seems to have survived, although we were both quite grumpy at times!
"I have been completely bowled over by the support I have received from colleagues – raising over £4,000 was beyond my wildest expectations. I feel very humbled but extremely grateful to everyone. A special thanks to all our University colleagues who were Tweeting kind messages and encouragement - and particularly Kate Scott from MBS who lives in Bollington and offered to meet us with bacon sandwiches early on Sunday morning!"
Donate
If you'd like to add to his amazing total, Alex is continuing to collect sponsorship via: