Life Sciences academics share their 'Eye Know How'
08 Sep 2014
Ever wondered what the back of your own eye looks like? You can find out on Saturday, 13 September!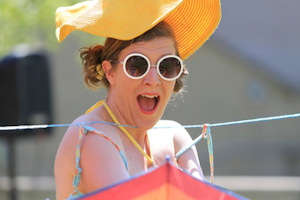 Come and join the drop-in day at Waterside Arts Centre, where you can have the back of your eye photographed and your 3D and colour vision checked.
Dr Ana Hernandez Trillo and Dr Catherine Porter from the Faculty of Life Sciences are running this public engagement event in conjunction with Object Recognition by local artists David Oates and Mishka Henner.
This project was funded by the Wellcome Trust and explores vision through the eyes of the artists.
Waterside Arts Centre is at 1 Waterside Plaza, Sale, M33 7ZF and will be celebrating its 10th birthday on 13 September. Join the party!
Further information