Pharmacy School's Foundation Year programmes sees its first graduates
04 Sep 2014
The first students to take part in Manchester Pharmacy School's Foundation Year programme graduated this summer after progressing onto the MPharm undergraduate course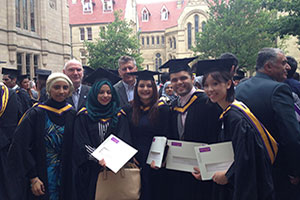 The School launched its Foundation Year programme five years ago, in conjunction with Xaverian 6th Form College in Rusholme as part of the Faculty's Widening Participation agenda. 
The School's Academic Lead for Widening Participation, Dr David Allison said: "This summer we saw five of the six students graduating with MPharm degrees, one with a first class MPharm and the others upper second class degrees. The final student in the group will graduate in December, also with a 2.1 degree."
"The success of this first group of students clearly illustrates how Widening Participation programmes can work!" Dr Allison added.
Upon graduating, Lamya Abdi, who obtained a 1st class honours in MPharm said: "The foundation year gave me the skills to excel academically and helped me to assimilate into university life. 
"I also got to make lifelong friends and had access to the excellent facilities at both Xaverian and the University of Manchester. I wouldn't have achieved what I have today without the foundation year so thank you."
The Foundation Year forms Year 0 of the undergraduate MPharm degree and is a bespoke course with only a small intake designed to prepare students, primarily from backgrounds currently under-represented in higher education, for entry to the MPharm programme. 
Students who successfully complete the Foundation Year have a guaranteed place on the first year of the MPharm degree course.