Join us for 'Latin Fever' Dance Classes
04 Sep 2014
Dance classes take place between 24 September and 19 November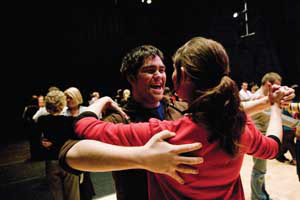 Learn to Dance "Strictly Style"
Wed. 24 September – Wed. 19 November 2014
Due to popular demand we're bringing Ballroom back to the Martin Harris Centre!
Would you like to learn the most popular Latin dances around? Whether you've danced with us before or are a complete novice, you'll love these new Latin routines. Our dance classes are the ideal place for learning in a nice, informal and friendly atmosphere.
You will receive expert dance tuition from Mark Rowbottom who manages "Steppin' Out" dance centre. Mark, who has more than twenty years dance experience, will guide you through a fabulous selection of the Latin American dances. Dances will include the slow and sensual Rumba, the energetic and rhythmic Salsa, and the passionate and fiery Paso Doblé - release your inner MATADOR!
The 9-week course is suitable for those with no or little dance experience and partners aren't essential. Join us on your lunch hour and you'll learn a new and impressive skill, whilst having fun and getting fit at the same time!
Places are limited so please book early to avoid disappointment.
These classes form part of the University's wellbeing initiative.
This is what some of our 2013 participants think of the classes:
"It was fabulous. Wonderful. Best hour of the week. Thanks for organising it."
"Had lots of fun. Great teacher. Love dancing. Good to meet new people."
Tickets are priced at 9 lessons at £4 per lesson (total payable in advance: £36) and are available from:
The Martin Harris Box Office 0161 275 8951 (2-4pm weekdays) 
Further information: