Has your child recently flown the nest to university?
02 Sep 2014
Volunteers wanted for Parents' Stand in Whitworth Hall during Autumn Open Days 2014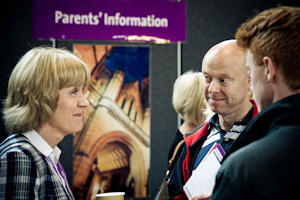 The Undergraduate Student Recruitment Team is looking for a few members of staff whose children have left home for university recently to take part in the next Open Days on Saturday, 27 September and Saturday, 4 October. Volunteers will provide an enhanced offering to parents of prospective students, in response to the recent Student Barometer survey which showed that parents now have a much greater influence over university choice.
If you are selected, you will work on a stand in the Whitworth Hall where you will talk informally with parents as part of the Student Experience Exhibition (the other stands in Whitworth Hall will include: Accommodation, Finance, IT Services, Study Abroad and Library). You will offer parents practical advice as they prepare to send their child to university and help to address their concerns.
Before the Open Days, you will receive a full briefing and support. On the day, you will have access to an online parent-specific guide where you will find information about the issues of greatest interest to parents:
Staff who volunteered on previous occasions found the experience very enjoyable.
If you are interested in volunteering to work on the stand, please contact:
We are looking for volunteers for 9am to 12.30pm, 12.30pm to 4pm or all day. You may wish to discuss this with your line manager before volunteering.