Oxford Road temporary closure - latest news
04 Sep 2014
The section of Oxford Road between Hathersage Road and Grafton Street could be closed for up to six weeks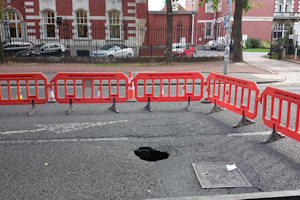 The closure is to allow for repairs to a collapsed sewer near the junction with Denmark Road, opposite MRI.
United Utilities began excavating the road on 4 September and have given an initial estimate that the works will take between four and six weeks. 
Once they have identified the cause of the collapse and assessed the extent of the damage, United Utilities will be able to provide a more accurate time scale for the works. Watch out for further updates on StaffNet News and eUpdate.
Until the repairs are completed, traffic is being diverted along alternative routes and the following bus services have been diverted:
15, 16, 18, 38, 41, 42, 43, 44, 53, 111, 142, 143, 157, X41, X57
Stagecoach bus updates are available at: