Imprinting the Imagination
27 Aug 2014
Delve into the world of the sixteenth-century printed image at John Rylands Library until 26 October 2014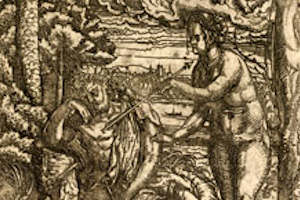 This small but captivating show, including works by artists such as Hans Burgkmair, Albrecht Dürer and Lucas van Leyden, explores the early modern transition from representing the world we see to inventing the world we might imagine. The prints are drawn from the Library's Hiero von Holtorp collection.
Due to their sensitivity to light, objects were rotated mid-way through the exhibition, so that visitors are now able to see a fresh selection of works by the above artists, and other Renaissance printmakers. These prints have never before been exhibited.
The exhibition has been curated by Edward Wouk, Lecturer in Art History and Visual Studies at the University, and Renaissance Print Culture students.
Edward said: "The exhibition looks fantastic and is a wonderful testament to the teaching and research collaborations taking place among academics and curators of the University's rich and diverse collections."
Further information