Staff benefits update
20 Aug 2014
Plan a summer escape to Disneyland Paris, the MOSI Collider exhibition, Kosmos Greek restaurant or a vintage tea party - and more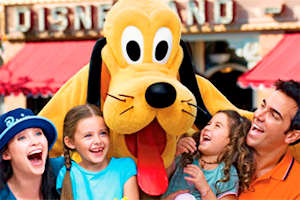 Family offer
DB Promotions are offering you special rates on a Disneyland Paris Tour leaving Manchester in May 2015 and their Disney on Ice shows this autumn. For more information visit the staff entertainment discount pages.
Step inside the world's greatest experiment for just £5
MOSI is offering exclusive discounts for employees, at a rate of £5 per person on their Collider exhibition. Collider is unlike anything you have ever experienced before. Part theatre. Part exhibition. Step inside the world's greatest experiment and go behind the scenes at CERN. Walk the tunnels, meet the scientists and explore the Large Hadron Collider. Stand inside the heart of a collision and witness the moment the Higgs boson particle was uncovered. To take advantage of this offer, please present your University Staff ID card when purchasing your ticket. Discounts are not available online. Exhibition runs until 28 September 2014.
Local hair salon
The Hepburn Hair Project is a new hair salon now open on Oxford Road opposite the Manchester Royal Infirmary. They are providing an introductory offer for all University staff of 20% off all services when showing your staff ID card.
Feeling Mediterrean?
Kosmos is offering you 10% discount off the total bill when you show your staff ID card at their award winning Greek Restaurant based in Fallowfield, Manchester.   For more details on this, their Tripadvisor reviews and their excellent Student and Early Diner specials visit the Kosmos discount page. 
Vintage tea parties
Once Upon a Teacup specialise in providing Private Vintage Tea Parties in your own home/garden (or chosen Venue) within the Greater Manchester area. They cater for between 8 - 30 people providing all the food needed together with our beautiful vintage crockery. To find out more about their service and staff discount visit the Once Upon a Teacup page!
Time for Perkz
Don't forget to visit Perkz and access all their discounts including August's offers. There are also great prizes to win this month (you don't have to buy to enter)! For details go to http://www.perkz.com and select 'competitions' from the category menu. If you haven't registered yet just email hrservices@manchester.ac.uk to request the unique UoM Perkz code.
Support
Depression has been in the news headlines recently. If you (or friend or colleague) ever experience any difficulties due to work or personal life, the University's Counselling Service offers confidential individual and group sessions to support you with stress, anxiety or depression, plus an innovative online self-help programme called Beingwell. This programme helps you to develop skills and strategies to enhance your sense of well-being. It's easy to use and totally confidential. 
On campus massage
To help you relax at work, Stephanie Marsh provides wonderful on-campus massages with 15% off her regular prices for staff. Why not try her 20 minute neck, back and shoulder massage. The treatment takes place with the client seated in a chair, at a desk or table, resting onto a pillow and/or sitting upright.
Keep up to date by visiting:
Have a great Bank Holiday break!