Business School and Precinct Centre plans submitted
14 Aug 2014
The University and developers Bruntwood have submitted plans for Phase Two of the £50 million redevelopment of Manchester Business School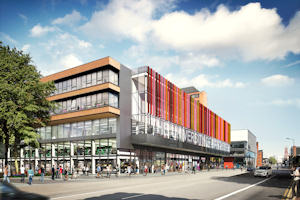 The plans include the refurbishment of Manchester Business School to provide significant improvements to its facilities, the redevelopment of the existing Precinct Centre to create 40,500 sq ft of retail and leisure space, the removal of the link bridge across Oxford Road and public realm improvements.
The proposed refurbishment of around 200,000 sq ft of Manchester Business School will create significantly improved teaching and administrative accommodation, a new Learning Library and Enterprise Zone.
The existing Precinct Centre will be reconfigured to create a mix of retail, food and leisure units with glazed frontages onto Oxford Road providing for the campus community and those living and working in the area.
Phase two also includes the removal of the link bridge across Oxford Road to improve views and light levels in the area. Public realm improvements, such as pavement widening, will enhance the area for pedestrians, cyclists and public transport users.
This complements the new hotel and enhanced Manchester Business School Executive Education Centre, both of which are being developed as part of Phase One, construction of which is scheduled to begin later in 2014
Diana Hampson, Director of Estates and Facilities at The University of Manchester, said: "We share a long-term vision with Bruntwood to deliver not just exemplary facilities for Manchester Business School and the University, but to create a landmark development on the Oxford Road Corridor. We are delighted, therefore, to be submitting this planning application, which will see the implementation of the next stage of the vision."
This development forms part of the University's 10-year, £1 billion Campus Masterplan to create some of the most modern campus facilities in the world.
Subject to planning consent, work on Phase Two will begin in 2015, with the development set to open in mid-2016. The refurbishment works will be completed in early 2018.