Alex battles blisters, cows and 56 miles in bid to raise £3k
12 Aug 2014
Keen walker Alex Waddington is gearing up to take on the best the Peak District can throw at him, as he prepares to walk 56 miles in 24 hours in September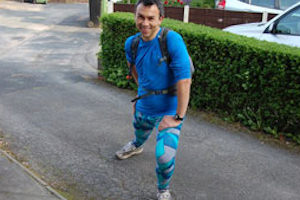 Alex lost his father Richard to cancer suddenly and unexpectedly earlier this year.
But now he is using his personal tragedy as motivation to complete the gruelling Bullock Smithy Hike – and in doing so to raise thousands of pounds for charity.
The circular route of the long-running challenge hike starts at Hazel Grove in Stockport and goes out through Lyme Park and into the Peak District, before coming back through Cheshire.
Walkers must beat fatigue and blisters, negotiate several steep climbs and descents, and face several fields of frisky cows that have been reported to charge at participants!
The challenge involves hiking through the night over challenging terrain to reach a series of checkpoints.
Keen cyclist and long distance hill walker Alex, who works for Policy@Manchester, is fundraising for Macmillan Cancer Support and Strathcarron Hospice near Stirling, which both provided support to his father around the time he died.
To get himself in shape for the challenge, Alex's six month training plan has included running and cycling into the University from his home in Marple, night hikes up Kinder Scout from Hayfield, and practice walks of up to 26 miles in the Derbyshire hills. He has been supported in his training by friend and colleague Pete Morris (Student Communications and Marketing Manager in the DSE), who will walk the route with him.
Alex and Pete are due to complete the famous 42-mile Lyke Wake Walk in North Yorkshire over August Bank Holiday as a 'warm-up'.
In May, Alex donned a pair of bright green and blue 'meggings' (men's leggings) after challenging friends, family and colleagues to help him reach £1,000 (picture attached).
Alex said: "For several years I have fancied doing the Bullock Smithy but losing Dad so suddenly in January galvanised me into action.
"The training has been tough to fit in around work and a young family, but my wife Catherine has been fantastic and supported me every inch of the way. It will also be great to have Pete alongside me, as he is much younger and fitter than me, and will help spur me on.
"You never expect to lose somebody so suddenly, and there have been some pretty dark days. But by doing this and raising money for two great charities, I'm hoping to do him proud and leave a lasting legacy to a wonderful man."
Alex is looking for support to help him reach his £3,000 target – you can sponsor him online at: