Refurbished common room for MHS and FLS Staff
04 Aug 2014
The latest project to be completed by the Directorate of Estates and Facilities on behalf of the Faculty of Medical and Human Sciences and the Faculty of Life Sciences in response to the 2013 Staff Survey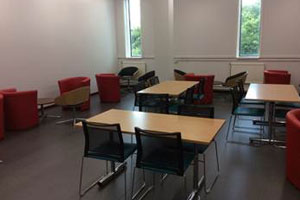 The refurbishment project has transformed a 'tired and dated' shared common room in the Stopford Building into a pleasant, modern environment for staff to enjoy.
The room incorporates areas to prepare food as well as spaces to relax during breaks plus a screened off 'quiet space' allowing privacy for those who just need to take some time out to themselves.
FMHS Director of Faculty Operations, Kay Day, said: "The refurbishment of this common room illustrates the commitment from the Faculty to make improvements for staff in response to the issues raised in the 2013 Staff Survey. We hope this space will be well received, as was a similar room in the Simon Building earlier this year."
The common room is located on the 2nd floor at the front of the Stopford Building, just near the lecture theatres.