Are you making a difference?
04 Aug 2014
Share your inspiring stories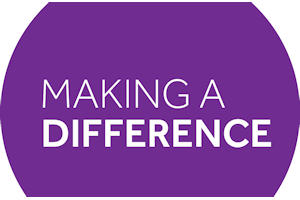 Whether you volunteer for a local charity, have become a Dementia Champion or School Governor or are a Green Impact Enthusiast we want to hear from you! We know many of our staff and students are making a difference by giving their time, energy and commitment to a wide variety of people and causes and we want you to share your story.
The Making a Difference blog highlights some of the ways our staff, students and alumni are making a difference to the social, economic, cultural and environmental well-being our communities, locally and globally. This ranges from research addressing some of the grand challenges we face in the 21st Century to the everyday things that we do, like cycling to work or volunteering on projects in our community.
We hear it all the time 'Making a Difference'. Someone, somewhere, is making a difference. But what does difference look like? Share your story via the blog and tell us how you are making a difference.