Dental Student Rows to Success
25 Jun 2014
Zac picks up Sport Manchester award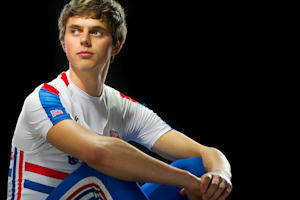 Dental Student Zak Lee Green is celebrating after recently being named as "Sportsman of the Year" at the University's Sport Manchester Athletics Union awards dinner at the National Football Museum, just a week after winning the gold medal in the Championship Lightweight Single Sculls.
Zak, a fifth year BDS student in the School of Dentistry, took up rowing at age 15 after being introduced to the sport during school activities sessions at Llandaff Rowing Club and soon became hooked.
Already a keen and competitive swimmer he quickly discovered his skill at rowing proved more successful and says realising he was a lot better at beating people at rowing than swimming helped him decide to commit to the sport. In 2007 he began training with the Welsh Squad, winning gold in the junior men's quad at the Home International Regatta in 2009.
Zak, who is part of the GB Rowing Team's Start Programme, sponsored by Siemens, rows with the GB Development Squad Rowing Team and has successfully competed in both the lightweight single and double scull classes in the 2010, 2012 and 2013 World Rowing U23 Championships and the 2012 GB Rowing Team Senior Trials.
On receiving the award Zak paid tribute to the support he received from the Dental School and said: "It's a real honour to be winner of sportsman of the year. I've had an incredible amount of support throughout my five years studying at the University including the sports scholarship programme and the generous support from the Dental School which has enabled me to buy a new top of the range boat this year.
"Thank you to everyone who has helped me so far, the award is as much theirs as it is mine."