Rebuilding paradise...
25 Jun 2014
PhD student helps restore his home country Madagascar's fortunes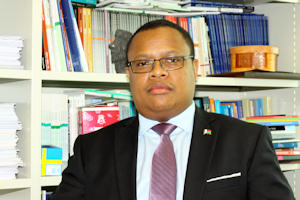 A PhD student has been recruited by the government of his home country Madagascar to help rebuild its fortunes, following devastating poverty and environmental destruction caused by deep political crisis.
Madagascar, the world's fourth-largest island, conjures images of lemurs, a series of children's animated movies and the scent of vanilla drifting along postcard perfect beaches.
But a coup in 2009 ousted the president and left Madagascar with a government that was not legitimate in the eyes of the international community. Development aid was cut by 90%. The fight between supporters of the installed leader and the ousted party brought the country to a standstill and cost more than 130 lives. Tourists stayed away from this island in the Indian Ocean, also affecting the country's economy. According to the World Bank, 70% of the population can be defined as being poor and non-monetary indicators of poverty rank the country high on child mortality, child-labour, dependency and non-attendance at school.
However Madagascar is now heralding a new era with Hery Rajaonarimampianina in post as the first democratically elected leader since the 2009 coup. Rajaonarimampianina says he wants to re-establish the rule of law and fight corruption, a tough task that requires a supportive team – a team that includes BWPI PhD candidate Andriniaina Raharinomena.
Andry, as he is known, is Special Advisor to the Minister of Finance for International and Economic Affairs. His priority over the last three months has been restoring, reengaging and redeveloping links with the international community and funding partners since the country's development aid was suspended in 2009. During that five year hiatus, Raharinomena maintained relationships with development partners at a technical level. Now the President is in post, he has spent time with the Finance Minister working with partners, specifically the IMF, to renegotiate a "rapid credit facility" and get the country back on its feet.
Andry said of his role: "Every day, there is pressure and a lot of responsibility. You always have to be aware of taking nothing for granted, that your job is not just about you and your agenda but a whole government agenda. And the job is challenging because not everyone thinks the same as you, so you have to think how can you best get things done, what kind of things will influence the team and factors to come together so work can be taken forward.
"But it's a wonderful experience; at my age, 34, and the stage of my career to get that kind of position is incredible."
With such a large task ahead of him there is limited time for tackling his PhD. But fortunately the subject matter is close to home. His thesis is entitled 'understanding the historical and political determinants of recurring political crises in Madagascar' – a topic which, combined with his work reforming the country's development cooperation and financial affairs, will put him in good stead for recognising the perils and pitfalls that may await Madagascar as it recommences its journey towards economic and political stability.
Andry added: "The Brooks World Poverty Institute has helped. Now I can better understand the politics behind why certain decisions are taken but also why they are not taken. I have a better insight into how a government works.
"Because the Brooks World Poverty Institute is a collection of different poverty research I am learning about their Effective States and Inclusive Development work too, so there are lots of opportunities to talk about politics, decision making, political settlements, which is a theoretical framework I am testing empirically in my research.
"I am excited about the future but we still have a lot to do. We need to have many people committed to the work that needs to be done and fresh momentum so this is not just a bureaucracy."