Eleni is in the swim
25 Jun 2014
Law student chosen for European swimming championships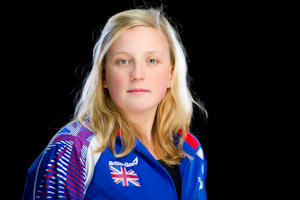 Law student Eleni Papadopolous is juggling her studies with a strict training regime after being chosen to compete in the International Paralympic Committee (IPC) Swimming European Championships in Eindhoven in August.

Eleni, 21, who suffers from mild cerebral palsy down her left side and nerve damage to her arm, is currently studying LLB Law and has already successfully completed a degree in Medieval History here at Manchester.

But if that was not enough, she also trains for more than 30 hours every week - 24 hours in the pool, six hours of weights and land work, and three hours of extra running/cycling to help with extra cardio.

Eleni's first senior competition was in 2009 when she was selected for the European Championships in Iceland and won two silvers medals. The following year she qualified for the World Championships in Eindhoven, but a severe back injury in 2011 meant she struggled to perform and qualify for the London Olympics. She is now determined to make her way back to the top.

She said: "I train six days a week, roughly four to six hours each day. A typical 'double day' for me means I wake up at 4.15am, leave home at 4.40am and run to the pool, which takes 20-25 minutes. I then have 'pre pool' until 5.15am and swim until 7.30am. Then it's 30 minutes of land work and stretching before heading off to Uni around 8.30am for breakfast before my lectures start. After a day at Uni I start training again at 4pm with 2.5 hours in the pool and another 30 minutes of land work. I usually get home each evening at half 7 meaning I have been out of the house for roughly 15 hours.

"This is a very heavy schedule and I balance it with study as much as possible. I have great support from my course friends who ensure I'm always up to date with work, helping me with notes I miss when I've been away racing or on training camps."

Eleni, who won the Faculty's UG Student of the Year Award last year, is a SPORT Manchester scholar. The sport scholarship scheme supports students who are balancing 10-20 hours of training with their studies and have been identified as talented by their National Governing Body.
She was also presented with 2013/14 Sportswoman of the Year Award by Helen Fairclough, Manchester Graduate and Chairwoman of the XXI Club – the sporting excellence alumni group that has been established since 1932.

Eleni said: "As this is the first time I've been on the GBR team for a few years I really want to make the most of being on the international scene once again. I've learned a lot over the years that I haven't competed internationally and have gained invaluable experience which has made me a tougher athlete. I am hoping to medal in my two main events the 100m fly and 200m individual medley."