Physics takes flight
23 Jun 2014
Ben's research knows 'Noah' limits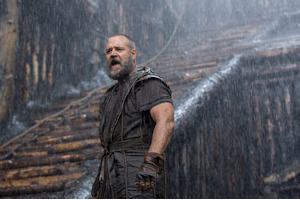 A University academic has taken his work in animal flight physics from Manchester to Thailand – and now to Hollywood!
Ban Parslew has been building links between early career researchers in Manchester and Thailand, teaching kids in a Thai orphanage how to fly quadcopters and gliders.
He has also been working as a "bird consultant" on the Hollywood biblical blockbuster 'Noah'.
Ben, at the School of Mechanical, Aerospace and Civil Engineering (MACE), who used to work at Kasetsart University in Thailand, has been involved in several projects with Thai universities.
They include the UK-Southeast Asia Collaborative Development award, which Ben received from the British Council to establish new research links between UK and Thailand, and his visiting lecturer scholarship for King Mongkut's University, in which he runs a workshop on flight physics for robotics students on the new robotics undergraduate course.
Another project was his 'RoboShop' robotics workshop in Bangkok, promoting collaboration between 12 UK and 12 Thai early career researchers.
Funded through the British Council's Research Links programme, it involved MACE researchers Khristopher Kabbabe and Gareth Roberts holding a hands-on session where participants built their own flying robots. Coordinators and mentors included Ben, Dr William Crowther and Dr William Sellers from Manchester, Dr Thavida Maneewarn and Dr Djitt Laowattana from King Mongkut's University of Technology Thonburi, and Dr Manukid Parnichkun from Asian Institute of Technology.
Its outreach session – in which the team taught students at Baan Ratchawiti Girls' Orphanage how to fly quadcopters and gliders – was covered by Thai Channel 3 news.
Feedback was extremely enthusiastic. Thavida Maneewarn, King Mongkut's University of Technology Thonburi, said: "The workshop was a big success. I'm quite excited about the idea of building a dinosaur robot after talking to Bill Sellers."
Sarita Suwannarat, from the British Council, added: "All of my colleagues wish they could have joined the flying robot demonstration today!"
And Tweets included "My first tweet and my first flying experience. #roboshop2014," from Pruittikorn Smithmaitrie, Prince of Songkla University, and "Great time at #roboshop2014 met some fantastic and inspiring people, look forward to seeing you in the future!" from Thomas Burton, Imperial College London.
And now Ben features on the silver screen – his name appears in the credits for Russell Crowe's latest film, 'Noah', having worked with one of the film's executive producers and animation team to improve the realism of animated doves in the film.
Ben said: "I was really surprised when the producer first contacted me about Noah, especially because I was already a fan of his films.
"Working with their team was a fascinating experience – they were engaging and enthusiastic about the work, and incredibly professional. At the start of the project they told me not to be too optimistic about having being on the credits, so when I saw my name appear on the screen at the end of the film I was over the moon.
"And I am just as proud of RoboShop – it opened up discussion between all kinds of robotics researchers, with backgrounds in engineering, electronics, zoology and mathematics and established some key areas for collaborative research between Thai and UK participants, including building a robotic dinosaur and designing an insect-scale flying robot."