Contacting the World brings together young performers
23 Jun 2014
Contact's biennial global extravaganza takes place on 8-11 July 2014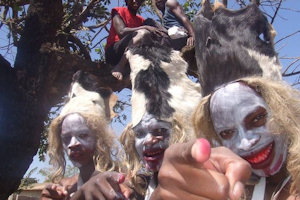 Contacting the World (CTW) is a theatrical exchange project that Contact has run for over 10 years, bringing young performers from across the world together to create new pieces of work based on what they learn about each other's cultures.
For 2014, young artists from Manchester and Corby, England and Livingston, Scotland have been paired with theatre companies from Iran, Jamaica and India and commissioned to make a piece of theatre inspired by their 'twin'. The festival will see the six pieces they've created shared on Contact's main stage over three nights of double bills.
All performances are live-streamed and offer the opportunity to connect work with peers from other countries, building a sustainable network of theatre practitioners across the globe.
The 2014 festival also features a host of workshops, discussions, matinees from CTW alumni companies, free, open-mic and improvised events.
Further information and booking