Fancy golf with your colleagues?
13 Jun 2014
The University Staff Golfing Society is looking for new members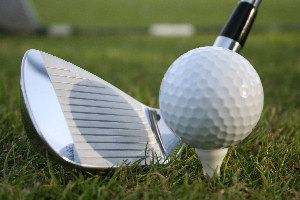 Do you enjoy playing the occasional round of golf? Would you like to join up with a small group of like-minded colleagues who meet up eight or so times each year to play at a number of private courses in the Greater Manchester area (or sometimes slightly further afield) at venues where you can be assured of well-maintained courses and high class facilities? If so, The University of Manchester Staff Golfing Society (UMSGS) might be of interest to you.
The Society has been in existence for many years and membership is open to all staff, including retired staff and postgraduates, from both The University of Manchester and Manchester Metropolitan University. The Society currently numbers around 35 members. 
Each match in the fixture list is a very congenial affair with the format usually in two or three balls playing an afternoon 18-hole Stableford competition - for which prizes are awarded for the winner and runner(s) up. These are normally presented at the meal after the competition (where members typically reflect on how close they each got to achieving the superb round that fate had cruelly denied them.) Often you can also participate in a nine-hole 'warm-up' in the morning too if you wish. Typically the cost of each fixture will range from £25 to £45 depending upon how many of the day's golf and dining elements you wish to include. 
There is also an annual singles match play knock-out competition for those who wish to take part in the option.
Society membership ranges over a very broad range of golfing ability from a few low-ish handicappers to (a majority of) much higher handicappers, some relative novices and a few casual social golfers. There is also no pre-requisite for either having an existing handicap or membership of a golf club – the Society will allocate an appropriate handicap.
For a very modest annual membership fee of £10 per year you can enjoy all these benefits. In fact, you do not even have to join initially since you can play as a member's visitor at any match (for a fee of £4 plus the fixture fee). So if you would like to try out the Club before committing to membership, please come along to any of this season's remaining fixtures (list below) as a visitor. If you subsequently decide to join, your £4 visitor fee will be credited towards your annual subscription anyway.
The Club has already played at Knutsford and Denton Golf Clubs this year and their remaining fixture list for the 2014 season is as follows:
Thursday, 26 June 2014 at New Mills Golf Club Tuesday 22 July 2014 at Davenport Golf Club
Friday, 15 August 2014 at Hazel Grove Golf Club
Monday, 29 September 2014 at Didsbury Golf Club
Wednesday, 15 October 2014 at Bolton Golf Club
As a UMSGS member you will have access to the fixtures of the Salford University Staff Golfing Society, which also meets throughout the year.
Further information
If you think that you might be interested in joining the Club or would just like to discuss the possibilities:
Alternatively you can contact the Membership Secretary, Tony Mellor, at: