University opens the doors on its amazing research on life sciences and medicine
23 Jun 2014
Community Open Day will take place on Saturday, 28 June (11am to 3pm) in the Michael Smith Building (just off Dover Street)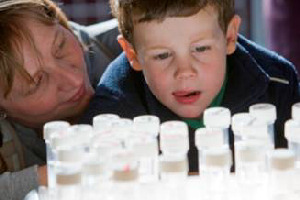 Come and take a look around our laboratories, have a go at our experiments, and use our million pound microscopes. Kids and adults alike can get hands-on with fun science activities and meet creepy crawlies, all as part of our Community Open Day.
Activities will include building medicines from beach balls, creating paintings with maggots and seeing amazing medical artefacts from the past. There will be opportunity to find out about biological and medical research that the University undertakes. Our researchers will be on hand to talk to you about what they do, from studying viruses and DNA through to understanding how babies develop.
Last year, this family-friendly event attracted around 700 visitors from the local community.
There is no need to book - just drop in.
Suitable for all ages.
Free parking.