Teaching excellence at Manchester recognised
12 Jun 2014
Two academics from the Faculty of Medical and Human Sciences have had their contributions to teaching recognised in this year's Higher Education Academy's National Teaching Fellowships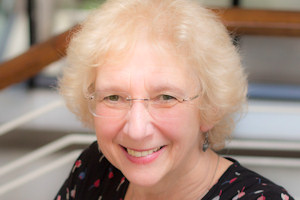 Dr Jill Barber, Senior Lecturer in Pharmacy, Manchester Pharmacy School, and Professor Wendy McCracken, Professor in the Education of the Deaf, School of Psychological Sciences, were among 55 higher education staff to receive the prestigious award which recognises excellence in higher education teaching and support for learning.
Successful nominees were nominated by their institutions and submissions had to show evidence of three criteria: individual excellence, raising the profile of excellence and developing excellence.
Dr Barber, who also recently received a University Teaching Excellence Award and a Distinguished Achievement Award from the Faculty, teaches Pharmaceutical Chemistry and Biochemistry to Pharmacy and Chemistry students in the Manchester Pharmacy School.
She has an interest in online learning which has resulted in her introducing a number of innovative practices into the Pharmacy curriculum. Her particular interest in the delivery of personalised feedback to large classes led to her working in collaboration with her colleague Steve Ellis, to develop Smallvoice, an app that can be used to deliver very detailed feedback on assessments, attendance and other factors to individual students.
Dr Barber also edited the first Pharmaceutical Chemistry textbook aimed specifically at Pharmacy students in 2012/13. The book, which has attracted excellent reviews, is part of the Integrated Foundations of Pharmacy series published by Oxford University Press.
A keen singer and musician, Dr Barber often integrates music into her teaching which has no doubt contributed to her successful teaching style.
Professor Clive Agnew,Vice-President for Teaching, Learning and Students, quoted one of Dr Barber's students as saying: "She is amazing in every sense of the word. She is so unique in her humour, beliefs and teaching style. She believes in shaping us into stellar pharmacists and I want to be like her when I grow up! I love Dr Barber! She is my favourite."
The second FMHS academic to receive a Fellowship is Professor Wendy McCracken, currently the only Professor in the Education of the Deaf in the country and the first female to hold this position.
Her considerable practical experience combined with her research into service provision is injected into her lectures, workshops and seminars through her innovative teaching and passion for her subject.
Professor McCracken's work has included training students on the Special Olympics Hearing Screening Programme for athletes and her students have actively participated in the National Deaf Children's Society Big Weekend. She also recently took part in a recent BBC Horizon programme, where she recalled how attitudes towards the Deaf have changed dramatically since the 1970s, when she was a trainee teacher.
Professor McCracken recognised nationally as setting high academic and practice standards to ensure deaf children receive high quality services and by maintaining her links with service providers, has ensured that students have a sense of service delivery to deaf children.
Roger Legate OBE, Head of Sensory Services, Linden Lodge School, Wandsworth said: "She is a remarkable individual who genuinely makes a difference to children's lives and fully understands the sensitivities around families and the importance of a highly trained workforce."
An early adopter of e-learning technology, Professor McCracken has led the development of blended learning in Deaf Education to support the flexible study needs of her students, including students who are deaf themselves. By offering campus and online experiences to all her students she has facilitated the development of a strong community of practice on the blended programme and created a model that can be investigated for other discipline areas, helping to take forward the University's blended learning strategy.
The National Teaching Fellowship Scheme (NTFS) celebrates individuals who continue to make an outstanding impact on the student learning experience and it has developed a proactive community of National Teaching Fellows (NTFs) to benefit both institutions and the sector.
Professor Stephanie Marshall, Chief Executive of the HEA, said: "While their fields of expertise are many and varied, what they each hold in common is their commitment to learning and teaching, their dedication to their students, and their tenacity in sharing their expertise with others."
The scheme is funded by the Higher Education Funding Council for England (HEFCE), the Higher Education Funding Council for Wales (HEFCW), and the Department for Employment and Learning in Northern Ireland (DELNI) and makes up to 55 awards of £10,000 each year to recognise individual excellence.