Hall Sport gets nominated for a National Award and will live on!
04 Jun 2014
The University of Manchester is in the running to receive the brand new 'Excellence in Student Sport Experience' award as part of the 2014 College Universities and Business Officers (CUBO) awards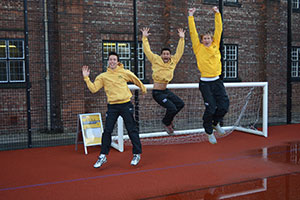 The ceremony will take place on Thursday 3 July 2014 at Royal Holloway, University of London.
Hall Sport, a Sport England (external public body responsible for grassroots sport in England) lottery funded project, delivered by a partnership between Residences and SPORT Manchester, had also been nominated for a National Lottery Award and the 2014 debut Directorate for Student Experience Outstanding Achievement Award (DOCA). Narrowly missing out on the clinching the title for these, could this be third time lucky?
Hall Sport is a programme of 45hours of fun and free drop-in sport sessions, delivered at or as close to the three main residential campuses, City, Victoria Park and Fallowfield. Specifically focussed on increasing participation of students in Halls of Residence, it has engaged 5500 students over the past three years.
2011 student consultation emphasised a gap in provision of both free activity for students and travelling further than 10 minutes to an activity being highlighted as a significant barrier to getting involved and exercising. SPORT Manchester and Residences set out to solve this with the purple seed of the 'Hall Sport' programme taking sport to their door on a no strings basis so submitted the concept as a project bid idea as part of the 2011 Sport England Active Universities Fund. 
Sport England saw the potential in the idea and agreed to provide £39,000 of lottery funding each year for three years to increase participation at The University of Manchester. In addition to this they providedan additional £30,000 capital funding in year 1 to support refurbishment of the multi-use games area at Hulme Hall – worth a look if you are passing.
2014 nearing the end of its third and final year of lottery funding, it has certainly proved to be a worthwhile investment. Over the past three years the programme has not only engaged  5500 students as participants, hopefully improving their Student Experience, just as importantly the project has provided opportunities that meets the 'Employability' agenda. It has achieved this by engaging 6 student Hall Sport co-ordinators, 88 coaches / session leaders and 33 volunteers to help market and promote the programme. Students have developed key skills like leadership, teamwork, project management, to name a few, and have been supported financially to undertake relevant sport coaching qualifications. 
In a recent SPORT Manchester survey one student said:
'The hall sport scheme is absolutely fantastic - the range of sports is good and the coaches/volunteers are generally enthusiastic and personable. It is exactly what I hoped I would find when I came to Manchester. 
Cost is a real obstacle to me when it comes to involvement in sports, because of my University workload I don't know if I will necessarily be able to attend all classes so a membership can often be a waste of money. The 'drop-in' option is very supportive to students with a lot of other priorities.'
Whilst Sport England lottery funding comes to an end, Hall Sport will live on as a University core funded element of the Residences living package. The extension of the programme should be the biggest reward and testament to the hard work from all staff and students involved. #purpleandproud.