June at Manchester Museum
03 Jun 2014
Come to your Museum this June to learn something new and explore the fantastic collection on your doorstep.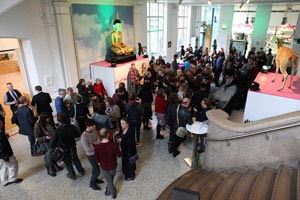 Adult Learners week taster sessions
Dip into the Museum's adult learning programme – Museum Meets for some taster sessions as part of Adult Learner's Week
Taster Tours of Manchester Museum 
Wed 18 June and Thurs 19 June, 1pm 
Taster Urban Naturalist: On the Allotment
Fri 20 June 1pm-2pm 
Urban Naturalist is a Manchester Museum's monthly series of friendly, practical workshops run by leading naturalists.  Drop by to the Manchester Museum Allotment for a taster session. 
Whitworth Park Community Archaeology and History Project
Tue 24 Jun, 6-8pm 
Drop-in, free
Meet the exhibition's project team as they share the fascinating discoveries from their dig. Find out more about excavation and excavation surveys, methods used and what archaeology can tell us.  Enjoy spotlight talks on some of the key artefacts in the exhibition, including, clay pipes and glass bottles, postcards, and toys. Have the opportunity to get a closer look at some of these objects.  Hear about future plans for Whitworth Park.
Urban Naturalist: Geology Garden
Sat 28 June, 2-4pm
Woo dale Limetsone, Shap Granite and Miller's Dale Lave are all rocks that feature in the Manchester Museum geology garden. Join Amanda Edwards, Curator and Resource Manager at School of Earth, Atmospheric and Environmental Sciences University of Manchester for a geologist's tour of this hidden resource and take part in some practical geological experiments.
Family events
Big Sat: Ideas for Life
Sat 14 June, 11am-4pm
Part of universities week
Drop-in, family, free
Come along and bring all the family to a day of discovery.  Become mini researchers and find out how bananas, meteorites, dinosaurs and frogs are linked together University of Manchester research.