Library wins innovation award
30 May 2014
Blackboard Catalyst Award for My Learning Essentials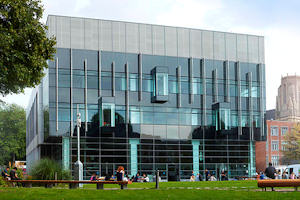 The Library has won the Innovative Blended Learning category of the 2014 Blackboard Catalyst Awards for its new My Learning Essentials skills programme.
This award recognises innovative practices in education that are at the forefront of blended and online learning, and which enhance the student experience and improve academic achievement.
My Learning Essentials, launched in September 2013, has been designed to empower students to become proactive, independent learners. It offers a blend of support opportunities via face-to-face workshops, skills clinics and interactive online learning resources. The programme is openly available to all students on a self-selecting basis via the My Learning Essentials webpages; the online resources are also available for schools to embed in their Blackboard learning environment as part of a curriculum-linked offer.
The award was presented at the Blackboard Teaching and Learning conference in Dublin.
Katy Woolfenden, Head of Teaching, Learning and Students, said: "We are delighted at this achievement. My Learning Essentials is a brilliant initiative that empowers students to be proactive in developing their skills. We continually work collaboratively with students and colleagues across the University, to ensure the programme meets the needs of students. Congratulations to all the teams that have contributed to the success of MLE."