A tour through time at Whitworth Art Gallery
28 May 2014
Gallery in the park showcases its distinguished past, amazing present and exciting future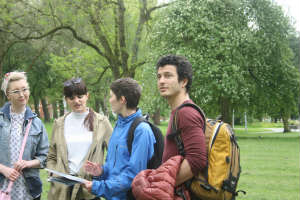 Which historic areas of the Whitworth Art Gallery are being restored to their former Edwardian glory? What do a Turner prize nominated artist and a Nobel Prize winning scientist have in store for the gallery's reopening? How is an artwork being used by joggers in the park to build their muscles?
Find out at 'Whitworth: Past, Present and Future', a new outdoor tour for those interested in finding out more about Manchester's gallery in the park while it undergoes a £15 million redevelopment (opening Saturday 25 October).

The Whitworth's very own Visitor Team will take you back through the gallery's illustrious 125 year history. From its humble beginnings as Grove House, a gallery established 'for the perpetual gratification of the people of Manchester', right up to the present day.
Hear about what the redeveloped Whitworth will offer: brand new exhibition spaces, a fabulous art garden designed by Sarah Price, the innovative Clore Learning Studio and more...
All this while taking a stroll through Whitworth Park, with views of the original façade of the building and encounters with some of the Whitworth's collections of outdoor art.
Dates and times
On Thursdays: 5 June, 3 July, 7 August, 4 September & 2 October 
12.15 – 1pm 
Tours start at The Anchor, 508 Moss Lane East

On Saturdays: 7 June, 5 July, 2 August, 6 September & 4 October
2 – 3pm 
Tours start at The Anchor, 508 Moss Lane East
All tours are FREE, booking is essential. Tours are wheelchair accessible.
To book
The parkland tours will go ahead even if it is raining – please wear appropriate footwear for a walk in the park, and be prepared for the Mancunian weather!