Unearthing long-hidden treasures
23 May 2014
Recruitment and Admissions team help Boggart Hole Clough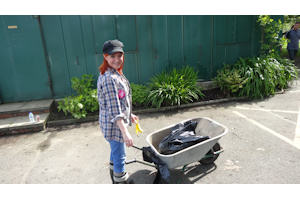 Eight colleagues from Recruitment and Admissions for two Schools, Chemical Engineering and Analytical Science (CEAS) and Materials, helped create a welcoming entrance to Boggart Hole Clough in Blackley, a large inner city park that is well-used by local dog-walkers, joggers and parents with their young children.
When the team  arrived, the area looked untidy and uncared for, with overgrown flowerbeds and planters that, having lined the Alan Turing Way during the Commonwealth Games in 2002, had been transported to the park and had remained untouched ever since!
We were asked to improve the area by clearing the flowerbeds and planters of weeds and overgrown shrubs and trees, digging over the soil and planting new bedding plants. We also gave the planters a nice new lick of shiny black paint.
Having been untouched for almost 12 years, the soil in the planters was extremely compacted and took a lot of effort to dig over, but the team, none of whom have very much gardening experience at all, worked incredibly hard to prepare the soil for the new plants.
All in all this small amount of work makes an incredible difference to how the entrance to the park looks and can now be enjoyed by the local community. Although the park isn't local to any of us, we hope to get back to the park over the summer to see how the flowers we planted have progressed.
Although the team worked very hard, and people were suffering with blisters and aching bones the next day, we also had a great time together; a lovely lunch in the sunshine and lots of laughter, but also a great sense of achievement at the end of the day.
We decided to get involved in this project because it was an outdoor activity and something completely different to our working environment.
Although we were aware of the great value of inner city parks to the local community, until we took part in the project none of us realised just how under-resourced our parks are, and were told that this work would never have been done if it weren't for volunteers like us.