World-renowned scientist joins Centre for Health Informatics
20 May 2014
The Health eResearch Centre (HeRC) at the Centre for Health Informatics has welcomed its newest senior appointment, world-renowned scientist and pioneer in the field of Health Informatics, Professor Tjeerd van Staa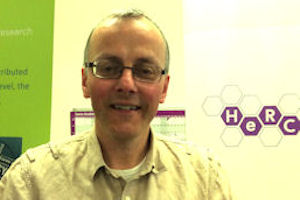 Professor van Staa's current research involves big data and understanding how electronic health records and pragmatic trials conducted at the point of care, can be used to improve health services. His work at the University will ultimately help to ensure that patients across the globe receive the best possible care and live longer, healthier lives.
Having graduated with his medical degree from the Erasmus University of Rotterdam in 1987, Professor van Staa has achieved a number of esteemed accomplishments including an MSc in Epidemiology from McGill University, Canada, a Master's Degree in Medical Law and Ethics and a PhD in Pharmacoepidemiology from Utrecht University, the Netherlands.
He went on to hold the post of Director of Research at the Clinical Practice Research Datalink and has been published in over 150 peer-reviewed articles. He is also the recipient of the prestigious Iain I Boyle Award from the European Calcified Tissue Society. In addition, Professor van Staa is an academic affiliate of several institutions including the Medical Research Council, Southampton University and the London School of Hygiene & Tropical Medicine.
On his appointment within the Centre, Professor van Staa said: "Joining the Centre for Health Informatics is a huge opportunity and I am looking forward to getting started. The analysis of big data is the way forward for health research and by helping to put in place an electronic infrastructure we can make better use of patient records to improve public health and revolutionise the field of health research."
Professor Iain Buchan, Director at HeRC and the Centre for Health Informatics added: "We are delighted with the addition Professor van Staa to the team at HeRC at what is an exceptional time of growth within the field. His arrival will help further develop the public benefits associated with health informatics and position the team at HeRC as being at the global forefront of health data research."