Lifesaving equipment installed at Martin Harris Centre
20 May 2014
Specialist first aid equipment, which can make the difference between life and death when someone goes in to cardiac arrest, has been installed in a cabinet at the Martin Harris Centre for Music and Drama.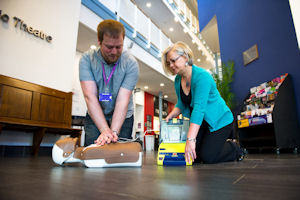 Mark Woolstencroft, Martin Harris Centre Manager, said "Having access to this equipment could be invaluable for staff, students, patrons to the Centre, but also to the local community in general."
An AED is very simple piece of equipment that can be used by anyone to greatly increase the chances of saving the life of someone who has collapsed in cardiac arrest. It is a safe device which only delivers an electric shock to the heart when it detects a particular, abnormal heart rhythm, therefore making it impossible to shock someone who doesn't need it.
There are now a number of defibrillators or Automated External Defibrillators (AEDs) at various points across campus. The locations can be found on the campus interactive map. The University urges all staff and students to familiarise themselves with the location of the defibrillators, especially those nearest to one's regular places of work or study.
Having them here at the University is a really positive thing for the health and well-being of all University staff, students and visitors. The University of Manchester received a Gold Cardiac Smart Award in 2013 for its work providing defibrillators across the campus and training more than 500 staff in basic life support skills.
Janet Makin, University First Aid Coordinator, commented "We are extremely pleased that the Martin Harris Centre has made this investment and recognised that having a readily accessible AED unit nearby could play a crucial role in helping to save lives."