Success for University at Student Nursing Times Awards
19 May 2014
Students and staff from the School of Nursing, Midwifery and Social Work are celebrating the success of their friends and colleagues at the recent Student Nursing Times Awards 2014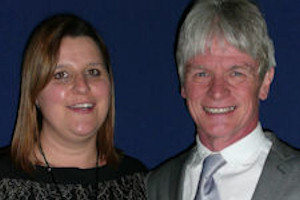 The title of Student Midwife of the Year was awarded to Ailsa Gaskill-Jones while Senior Lecturer, Dr John Costello, received the award for Lecturer of the Year.
Announcing the winners, Jenni Middleton, Editor of the Nursing Times said: "Ailsa demonstrated all round qualities of a worthy winner, not just within NHS services but also the needs of the individual woman. She is passionate and inspiring and has vision of midwifery for the future."
Presenting Dr Costello's award, she added: "This lecturer encourages challenging and critical thinking while making learning safe, interesting and fun. John clearly has a vast experience and this showed by the number of positive remarks from students and colleagues."
The awards, which were held at the London Hilton at the beginning of May, had a record number of entries this year, with the University having eight shortlisted nominees across six categories.
Alongside Ailsa and Dr Costello, the other nominees from the School were Midwifery student Jennifer Heath, nursing students Sarah-Louise Flowers, Lucy Giles and Sarah Penn, Joanne Kerr (Lecturer) and The University of Manchester, Hearing Voices Network and Connect Support student partnership (represented by Senior Lecturer, Dr Tim Bradshaw, Kate Crawford, HVN and John Mainwaring, CS).