Stroke survivor takes to stage
14 May 2014
Renowned performer Peggy Shaw at the Contact as part of Science Stroke Art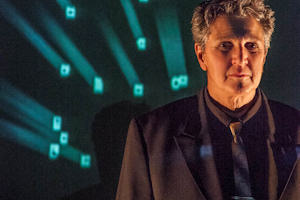 The University is involved in an exciting three-way collaboration between the Stroke Association, Contact and the Sexuality Summer School this month.
Renowned performer Peggy Shaw will perform her show about her experience of having a stroke 'RUFF' at the Contact on Wednesday 28 May, as part of Science Stroke Art, a partnership between the Stroke Association and the University.
The solo performance is "a tribute to those who have kept Shaw company these 68 years, a lament for the absence of those who disappeared into the dark holes left behind by the stroke and a celebration that her brain is able to fill the blank green screens with new insights and an opportunity to share them with her favourite confidants – the audience."
It will be followed by 'Ask the Doctor', in which local stroke clinician and Manchester alumnus Dr Khalil Kawafi will answer guests' questions about stroke.
The Sexuality Summer School offers a week of queer cultural events and public lectures in Manchester every May; this year's theme is Queer Anatomies.