Glorious Georgians and celebrated women writers inspire musical evening
01 May 2014
Enjoy your own little bit of Georgian entertainment at the first of The Friends of Tabley Summer Concerts at Tabley House on 14 May.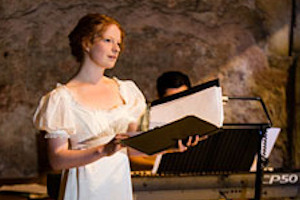 The Glorious Georgians is a theme being celebrated across the country this year with the 300 years anniversary of the accession of George I. 
At this musical evening, Cheshire-born soprano Rosie Lomas will present a range of Georgian and early Victorian music inspired by Jane Austen and Knutsford's own Elizabeth Gaskell. Dressed in period costume, Rosie, accompanied by the harpsichord, will perform folksongs, arias and drawing–room songs interspersed with readings from the great ladies' works in the splendid Georgian gallery of The Tabley House Collection.
Rosie has previously performed at the Jane Austen Festival and for the Gaskell Society.
The Georgian-themed soiree is the first of three concerts over the summer including Halle Strings in June and a choral summer concert in July.
Wine and canapés will be served.
Booking
Tickets cost £20 and can be purchased from: