Lecture Podcasting proving to be an invaluable learning resource.
31 Mar 2014
Since its official launch in September last year the Podcasting service has been embraced by our staff and students.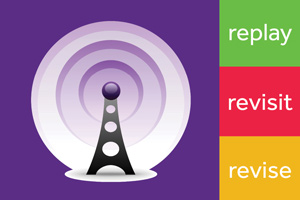 Now available in 120 teaching locations across campus (twice the number available in Semester 1), with plans to add a further 50 rooms to that list later this year, Podcasting is proving to be an invaluable learning resource for both staff and students.
With downloads reaching over half a million, our students are making the most of the ability to replay, revisit and revise from their past lectures. This is especially true during exam periods when we have seen significant spikes in the number of Podcast downloads.
Having recently introduced a basic editing feature, lecturers are now able to remove the beginning and end of their lecture recordings before they become available to students. This can be used to cut out the ambient noise while students are settling at the start of lectures.
An academically led steering group has been set up to oversee the future direction of the Podcasting service, this group is made up from representatives from each school and faculty.
If you have a query regarding the Podcasting service you can contact the IT Services Media Technologies team: