Brass band concert to blow up a storm
25 Mar 2014
The University of Manchester Brass Band (UMBB) is teaming up with the Stockport's Fairey Band, when they will be performing in a joint concert on Saturday, 5 April (7.30pm) in Holy Name Church, Oxford Road, Manchester, M13 9PG.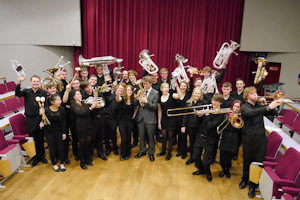 The concert is part of The University of Manchester Brass Band's (UMBB) continuing development, by joining up with the current North West Regional Brass Band Champions.
This new venture will involve the players of the local Stockport band mentoring players of the University band.
Manchester student and UMBB Manager James Yeadon, who plays soprano cornet, said: "We are very proud of our first three years as a band, and are very much looking forward to learning from, and playing with the Fairey Band. The concert should be amazing fun too. It is the first of many concerts to come in this new and exciting relationship between the two bands."
Fairey Band Manager Nigel Beasley, said: "Following the band's recent Area Qualification win on St Magnus, the 2014 North West Champion Band is delighted to continue it's close association with the University Brass Band, by appearing with some of the country's finest emerging brass talent, as well as mentoring them as part of their continued development. It is the bands hope that this continued investment in youth will result in the University students becoming part of the next generation of stars."
The University Brass Band was established in October 2011 and has quickly gone on to become one of the finest University brass groups in the country. It provides regular performing opportunities for brass players at the University, and consists of both music and non-music students. As well as consisting of student players, the band is also run and conducted by students.
This year the University Band claimed second place in the national Uni Brass Championships for the second time, narrowly missing first place by one mark.
This term will also include the band's first tour as they set off for a week to perform in a variety of concerts and venues over Northern Ireland.
Tickets
£5 Student/Under 18
£8 Senior Citizens
£10 Adults
Purchase on the door or reserve by ringing/texting:
Further information