Alan Gilbert Learning Commons Video Competition launched
21 Mar 2014
In celebration of the Alan Gilbert Learning Commons (AGLC) winning The Guardian University Award for Best Facility 2014, the Library is now running a short video competition for students to generate new and exciting content for the AGLC digital screens.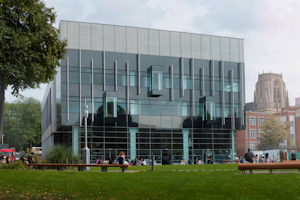 The Competition - 'Your minute to win it'
Students are invited to develop a short and creative video (no more than 60 seconds) that shows their 'winning moment'. This can be anything from academic achievement, to making their first home cooked meal at the University.
A team of judges will then choose up to 20 winning videos to be displayed on the AGLC screens. The judging panel will be made up of a representative from the AGLC, Library Marketing and the Students' Union.
Who can enter?
The competition is open to all UoM students.
Dates
The competition was launched on 19 March and will run until 25 April with winners being announed on 5 May.
Prizes
Each winner will receive a £30 Amazon gift voucher.
Following on from the success of the Student Image competition, 'Your minute to win it' will generate content that is student focused.  An online campaign is underway to raise awareness and inform students about the competition, which is utilising the Library's digital platforms and promotional support from University colleagues would be most welcome.
More details
For more details about the 'Your minute to win it' competition: