Katrina wins her race again time
13 Mar 2014
Contributions by University staff have helped to pay for potentially life-saving stem cell treatment in the US for former Army medic Katrina Brown.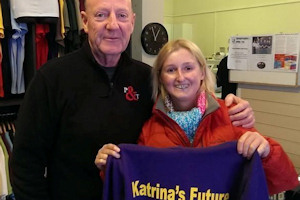 Last October, Janet Platt in the University Language Centre alerted staff to the plight of her neighbour's daughter, Katrina Brown. Katrina, 30, had been exposed to radioactive material whilst on front line duty in Iraq and needed urgent stem cell treatment in the USA.
University staff responded by donating wool or crocheted squares for blankets to help fund life-saving treatment for Katrina. The initial appeal raised the £21,000 needed to pay for tests in Chicago which confirmed that Katrina was eligible for a stem cell transplant which could re-boot her immune system.
In mid-January, staff were invited to respond to a further appeal to raise the remaining £26,000 required to fund the stem cell treatment. As Katrina's heart had already been affected by the condition, which hardens skin and organs, it was essential that treatment began within 65 days.
We are delighted to report that Katrina has recently posted the following message on Facebook:
"After an extremely stressful two days I can now officially say a huge thank you to everyone who has been involved in my fundraising journey.
"This morning, on the very last day possible, I reached my target. I have now paid the hospital and I am counting down the last 12 days until I fly.
"I absolutely cannot stress how grateful I am to everyone. Each and everyone one of you has played a part in saving my life and I will be forever grateful."
Further information
For updates on Katrina's campaign, visit: