Wedding Fair First at Tabley House
12 Mar 2014
From vintage cars to vintage tea cups, from spectacular floral displays through grand pianos to roulette wheels, The Tabley House Collection's first wedding fair on 23 March is set to be a success, with an eclectic range of wedding services on offer amongst the grand Georgian rooms.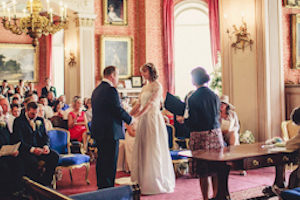 Highlights of the Fair include a floral centrepiece display by Red Floral using the George III mahogany table in the dining room, fit for any Lord or Lady to entertain even the most important guests.
Brides will also be able to buy unique designer dresses at discounted rates and caterers will be giving out tasty samples.
Registering
Visitors to the Fair are encouraged to take advantage of other special discounts on the day by registering at Tabley House Wedding Fair to ensure that they don't miss out.
The Fair is the latest initiative from the Tabley House Collection to boost revenue from weddings which has already resulted in more weddings for 2014 than in the previous 3 years.