Free Lunchtime Concert today with Quatuor Danel
13 Mar 2014
On Thursday 13 March, 1.10pm at the Martin Harris Centre for Music and Drama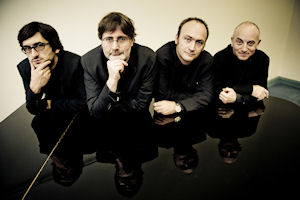 Feast your ears on Haydn played by Quatuor Danel, the University's talented resident string quartet.
Haydn's meditative orchestral work - Seven Last Words, Op. 51 - commissioned by Cádiz Cathedral, also known in a choral version, here in the composer's beautiful transcription for string quartet.
This concert is supported by the Ida Carroll Trust. Everyone is welcome! Concerts are free, just turn up there's no need to book.
Further information: