Industry honour for computing professor
07 Mar 2014
A University of Manchester computing pioneer has been honoured by BCS, The Chartered Institute for IT.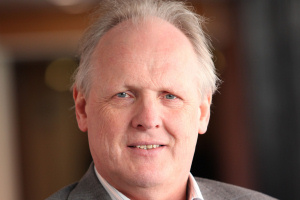 Professor Steve Furber CBE has received the BCS Lovelace Medal and has also been made a Distinguished Fellow of the industry body. The Awards put Professor Furber in the company of some of the top names in the history of the industry, including Bill Gates, Sir Tim Berners Lee and Vint Cerf. 

Professor Furber is responsible for some of the most innovative work in the field of computing. His career began in 1981 when he worked for Acorn Computers where he was a principal designer of the BBC Microcomputer which was adopted by schools nationwide and became the first computing experience for many school children. He was also responsible for the microarchitecture design of the ARM 32-bit RISC microprocessor; both inventions earned Acorn the Queen's Award for Technology.
In 1990 he moved to The University of Manchester as ICL Professor of Computer Engineering in the School of Computer Science. He leads the Advanced Processor Technologies research group with interests in many-core computer architecture, neural systems engineering and asynchronous and power-efficient System-on-Chip design. Professor Furber has served as a member and chair of the UKCRC executive, and as Vice-President Learned Society and Knowledge Services and a Trustee of the BCS.
In 2002 he served as specialist adviser to the House of Lords Science and Technology Select Committee inquiry into 'Innovations in Microprocessing', which resulted in the report 'Chips for Everything: Britain's opportunities in a key global market'.  He chaired the Royal Society study into Computing in Schools, which resulted in the 'Shut down or restart?' report in January 2012.
Professor Furber said: "It is a great honour to receive these awards. I have been very fortunate to work with many outstanding colleagues both at Acorn and at Manchester, and to find myself in the right place at the right time to work on projects that turned out to have an impact. The first half-century of computing has been extraordinarily exciting, but watch out, because the next half-century promises even bigger changes and more rapid development!"
David Clarke MBE, the Institute's Group Chief Executive Officer, said: "These awards recognise Steve's outstanding contribution to the IT profession and industry.  He is responsible for some of the most innovative work in the field of computing."
BCS introduced the Distinguished Fellow award in 1971 and it is presented from time to time in recognition of notable service to the advancement of computing; to date, only 27 people have been selected for the title.
The BCS Lovelace Medal was established in 1998 in honor of Lady Augusta Ada Byron, Countess of Lovelace and daughter of Lord Byron. The Medal is presented annually to individuals who, in the opinion of BCS, have made a significant contribution to the advancement of Information Systems. Steve will be invited to give the BCS Lovelace lecture in 2015.
Ends