Cycle Theft Victim Bike Loan Scheme
04 Mar 2014
First student victim gets back on a bike!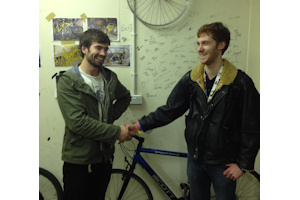 Ian Wallbridge had his bike stoken from the main campus but thanks to the University's bike crime initiatives, he's now got the free loan of a reconditioned bike for a couple of months while he's sorting out another one.
Ian has also been supplied with a gold standard 'D' lock to make sure he feels more confident about bringing a new bike onto campus. 
When collecting his bike, Ian said, "After having my bike stolen from campus I was fortunate enough to have the assistance of the security team and the volunteers at Biko Bikes.  They helped provide a bike on a two-month loan for free until I managed to sort out replacing my own.  The bike itself is in great working order and everyone I dealt with was sympathetic, friendly and helpful.  Thank you!"