Imaging research honoured by the Queen
27 Feb 2014
The Queen has presented The University of Manchester with a prestigious award in recognition of its world-leading imaging techniques and extensive knowledge base in advanced materials technology.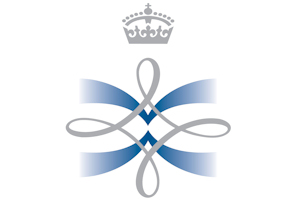 President and Vice-Chancellor, Professor Dame Nancy Rothwell, accepted the Queen's Anniversary Prize for Further and Higher Education from Her Majesty at a ceremony at Buckingham Palace this morning (Thursday).
Professor Rothwell was accompanied at the Palace by University Chancellor, Tom Bloxham, Vice-President and Dean of the Faculty of Engineering and Physical Sciences, Professor Colin Bailey, Professor of Materials Imaging, Peter Lee, Professor of Nuclear Materials, Paul Mummery, and Phil Withers, Professor of Materials Science, who accepted a scroll for the Prize from His Royal Highness the Duke of Edinburgh. Five students from the School of Materials also attended the event.
The Queen's Anniversary Prizes are administered by the Royal Anniversary Trust and presented every two years to reward innovative work of outstanding quality within the higher and further education sector.
Manchester is at the forefront in developing new techniques for the 3D imaging of structures and defects in materials, and interpreting the state of stress, microstructure and damage in engineering materials and components. Coupled with this is the University's knowledge and expertise to develop reliable models based on these imaging results to allow the development of engineered life-extending treatments and to accelerate the safe adoption of new manufacturing processes.  To date, the University has supported a wide network of 90 companies and 35 institutions providing unique insights into materials behaviour and failure, enabling innovation and direct impact to UK plc.
The University's innovative work is having significant impact over a wide range of sectors, including nuclear, aerospace, oil and gas, airport security, automotive, biomedical materials, manufacturing and defence.  It also produces wider benefits by transferring this knowledge and understanding into medical and life sciences, cultural heritage, palaeontology and food technology, as well as training future engineers and scientists in the use of leading imaging techniques.
Speaking after the ceremony, Professor Rothwell said: "It was an honour to be invited to meet the Queen and accept this award on behalf of our staff and students. The Queen's Anniversary Prizes reward excellence in research of national and international significance and reflects the outstanding work in imaging techniques being carried out in Manchester."
Professor Bailey added: "The University has become the world leader in the development of imaging techniques and its application across a range of disciplines.  Our research in advanced materials and manufacturing is critical to the UK's economic growth, as well as addressing global challenges in a number of sectors.  The Queen's Anniversary Prize is a great honour, highlighting the excellent work carried out by our staff."
Ends