Family events at Manchester Museum this March
13 Mar 2014
I Heart Manchester, Baby Explorers, Magic Carpet and The Body Experience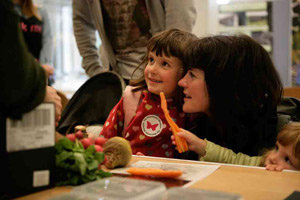 Baby Explorers
Tues 18 March, 10.30-11.15am & 11.30am-12.15pm & 1-1.45pm.
Sensory play and interactive story sessions for babies who aren't walking yet. Every other Tuesday (except half term school holidays when there are drop-in sensory play sessions)
Book on 0161 275 2648 (from a week before), free.
The Body Experience
Sat 15 March, 11am-4pm
Come and explore the human body with scientists from Life Sciences and Human & Medical Sciences at The University of Manchester. Collect your 'passport' and travel around the human body from top to toe. Learn how the brain communicates with all the different organs in your body and how it controls your senses. See how the heart works and how your lungs help you breathe. Explore the wonder of the human spine and perform your very own surgery! Travel through your gut and learn about (and see) the bugs that can infect it. Collect your passport in the reception area and start your very own 'Body Experience'. Part of National Science and Engineering Week.
Manchester Minute Microlectures The first M-cubed (Manchester Minute Microlectures) event is being held to highlight biomedical research to the public. A team of researchers will be explaining aspects of their work in just one minute. They will inspire and amaze us with the important research being done within The University of Manchester. These talks will start at 1pm in the Museum's Discovery Centre and will be followed by coffee and cake so you can chat to the researchers afterwards to find out more.
Drop-in, free, suitable for children aged 8+
I Heart MCR Big Sat
Sat 22 March, 11am-4pm
Drop in, free
There are many fascinating stories behind the objects at Manchester Museum. Find out about Maharaja the elephant's walk from Edinburgh to Manchester's Belle Vue Zoo as well as many other object secrets. Investigate our Manchester Gallery and discover more about our Roman histories and Manchester's geological past. As part of the Manchester Histories Festival.
Family, drop-in, free 
Magic Carpet
Fri 28 March, 10.30-11.30 & 11.30 – 12.30
Story making and activity sessions. For toddlers up to 5yrs and their families/carers
(Young babies welcome with older siblings)
Book on 0161 275 2648 (from a week before), free, under 5s and their families/carer