After Hours: Coral at Manchester Museum
27 Feb 2014
*Tonight* Encounter the unexpected…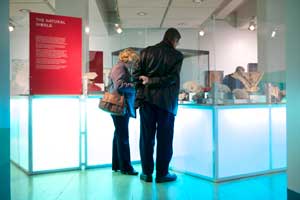 Come along to Manchester Museum for a vibrant and eclectic evening celebrating the Coral: Something Rich and Strange exhibition.
Enjoy highlights tours of the exhibition with Dr Marion Endt, see and handle some amazing objects from the museum's stores, and meet artists Lucy Burscough, Rachel Elwell and Karen Casper who all have work exhibited at the museum. Delve deep into the history of Coral with Dr Melanie Giles & find out more about Coral in the Iron Age. Hear poetry and have a go at creating your own coral poetry in a workshop with Melanie.
Join Lucy Burscough and help to create an amazing hyperbolic crocheted coral reef and see Karen Casper demonstrating techniques used in making the fan Ventalina on display in the exhibition.
Enjoy music from the Seychelles, Jamaica and Belize where coral reefs are prevalent, with sets from DJ Mayeva, Golty Farabeau, and Calypso George.
Other events throughout the evening:
Find out more about clay and clay sculpture with Pascal Nichols and help to create a coral installation.
Discover how we explore the sea bed and find out what the rocks are that lie beneath kilometers of water, with students from Manchester University's School of Earth, Atmospheric and Environmental Sciences.
Rachel Elwell will introduce you to a concept which plays around with form compositions by transforming a simple, geometric shape, through a repetitive line drawing process to produce a new abstract form, and then back again to its former shape.
At 6.30 and 7.30pm: Human survival in many ways depends not only on physical but also on psychological resilience, on the ability to maintain healthy emotional, social and mental life functions in the face of adversity. Join historian Nirvana Romell and examine numerous artefacts in the Museum's collections as examples of people's efforts to develop psychological resilience. Meet by the handling table in the Manchester Gallery.
Free, drop in, adults