University mourns oldest staff member
21 Feb 2014
Farewell to boathouse stalwart who 'arrested' two intruders, battled blaze…and retired at 95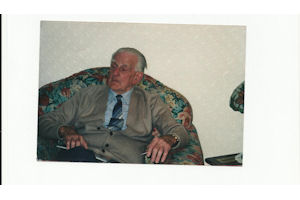 The University's oldest employee has died at the age of 97. Bill Manning retired from his role as part-time caretaker of the University boathouse at Sale in 2012, at the age of 95, having worked there for more than a decade.
Mr Manning joined the SPORT department during the merger of 2004, having previously been employed by UMIST – following a medical he was pronounced fit to continue his work at the age of 87.
Chris Renshaw, Deputy Head of Sport, said: "It wasn't unusual to find Bill clearing leaves out of the gutters on the roof of the boathouse, or up a ladder sawing branches from overhanging trees. The nearest we came to falling out was when he was 90; I took his ladders away and produced a risk assessment confining him to light duties.
"Bill was available to members of the Boat Club 24/7, whether it was to provide a spare key when they had locked themselves out, help to mend their bikes, start their cars or repair burst pipes, there was nothing he couldn't lend a hand to. He will be sadly missed."

Former Director of Sport at UMIST, Dr Richard Cox, first met Mr Manning in 1986 as he would frequently ring up to report issues relating to the boathouse. On one occasion Bill discovered the building on fire and put the flames out - another time he found a couple of intruders on the premises and held them with a metal bar until the police arrived.
Richard decided to officially offer Mr Manning the role of caretaker and, despite his initial refusal to accept any remuneration for it, he eventually became a member of UMIST staff - including wages - in 2000.

Richard said: "On his first day, I picked him up at his house in Dane Road and drove him to the main campus for his induction. He dressed immaculately, as always, in a blazer and tie and enjoyed his excursion into the city centre.

"A member of the HR team was obliged to ask him questions about his personal development and career plans. It amused him that at 84 he was being asked these questions, especially by someone young enough to be his granddaughter. Nevertheless, he took it all in his stride and won over everyone he met."
Mr Manning had originally been a self-employed plumber in Sale and could turn his hand to most things - over the years he repaired and replaced many items, making use of a well-equipped little workshop in his back yard.

Richard, who retired from UMIST in 2003, added: "As an animal lover, my abiding memory of Mr Manning is how his loyal dog and later adopted cat would follow him across Dane Road to do the rounds of the boathouse and take food for the birds. He would go round the back, call them by his whistle and they would appear from nowhere and eat from his hands – extraordinary!"

Thanks to the support of his two daughters Mr Manning was able to stay in his own home, as they spent half their time each week living there to care for him, as he had cared for his ailing wife some 15 years previously.
The funeral of Mr Manning takes place at Altrincham Crematorium at 11.30am on Thursday 27 February.