Find your green guru
20 Feb 2014
New website connects eco-friendly colleagues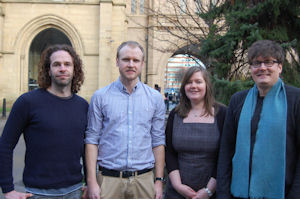 The University has launched Living Lab – a website that helps our colleagues and students find like-minded people when they are about to embark on an environmental sustainability or social responsibility project.
With a campus covering some 85 Hectares, the University today faces similar challenges to that of a rapidly developing small town. So in July 2013, a Living Lab workshop brought together more than 40 key players who looked at project ideas addressing issues such as reducing carbon, sustainable procurement, environmental design and behaviour change.
This network of people and projects has now been turned into a searchable website – described as "a University LinkedIn for sustainability and social responsibility" – with 250 keywords that, when typed in, lead you to others who could help you.
It also hosts case studies of successful collaborations, provides live opportunities to work with the Estates Directorate and gives information on how to propose and advance your projects. 
Funded by the University of Manchester Research Institute and the Higher Education Innovation Fund, the team comprises Lead Researcher Dr Ross Jones, Principal Investigators Dr James Evans and Dr Andrew Karvonen and Research Associate Lucy Millard.
You can follow all the latest news about the Living Lab via twitter at @ULLManchester or visit: