Manchester blows audience away in brass band battle
17 Feb 2014
Students from the University have been pipped by Huddersfield University into second place at the world's only inter-university brass band contest, by just one mark.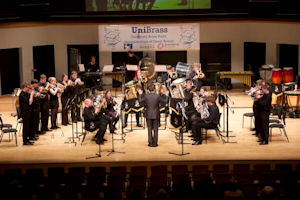 Under the baton of Music graduate Jonathan Evans, they took on 14 other bands who battled it out in front of a packed Butterworth Hall at the Warwick Arts Centre in Coventry on Saturday. The bands came from across the country: York, Warwick, Huddersfield, Manchester, Lancaster, Cardiff, Southampton, Oxford & Oxford Brookes, Birmingham, Durham, Keele, Hull, Bangor and  Sheffield.
The University of Manchester Brass Band was formed in October 2011 and has quickly gone on to become one of the finest University brass groups in the country. It provides regular performing opportunities for brass players in the University through the brass band medium, and consists of both music and non-music students from The University of Manchester.
University of Manchester Brass Band Concert manager James Yeadon said: "The band's two amazing solo cornet players, Illy Quane and Lucien Rey, performed Peter Grahams cornet duet 'Quicksilver' to an incredibly high standard – well done to them!
"After a lengthy deliberation the panel awarded Manchester second place: we missed out on first place by just one mark. Our congratulations go out to this year's winners Huddersfield University Brass Band, as well as all the other competing bands.
"The University of Manchester Brass Band are now preparing for its next major event, a joint concert with the world famous Fairey Band on Saturday 5 April, at Holy Name Church on Oxford Road, Manchester in what promises to be a fantastic concert."
The bands all set out to entertain the judges – expect dramatic, exciting music, and all-singing-all-dancing performances with everything from fancy dress to choreography
Founded in 2011 by a group of students at Lancaster University, which hosted the contest until 2013, the student-run Unibrass has become a firmly established event in the university calendar.
Each participating band is given a maximum of 20 minutes to perform to adjudicators and the audience, with bands free to choose their own repertoire and choreography.
The contest is usually divided into two sections. The Championship contest is open to all universities, colleges or other educational establishments whereas the Elite contest is open only to Conservatoires and Academies of Music. Both contests are judged by adjudicators on their entertainment value and musical prowess, with prizes available for notable features at the discretion of the UniBrass committee and the adjudicators.