Our medics' heroic work in the Philippines
14 Feb 2014
Colleagues recall battle to save stranded typhoon victims to mark three-month anniversary of Haiyan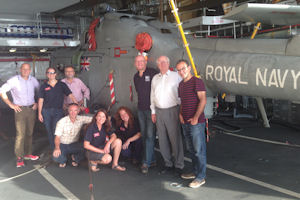 Manchester medics have spoken about their role treating the victims caught up in the typhoon in the Philippines to mark the three-month anniversary of the disaster.
A 12-strong team led by Professor Tony Redmond, from the Humanitarian Conflict Response Institute, were involved in the UK's first joint civilian and military humanitarian response effort.
Part of the team boarded HMS Daring to treat hundreds of people cut off on remote islands by the typhoon which struck last November, while the other half assisted at a hospital in Tacloban. 
Professor Redmond said: "The Navy got us to the islands that nobody else could get to. Some of the islands had no jetties so we had to wade waist-high in the water carrying all the medical kit above our heads.
"It was very moving when we flew over the first island in the helicopter, they'd seen helicopters before but no one had landed. They had written "help" in the sand and everyone ran out of their homes waving towels to bring us in."
Once the medics, who also included Dr Amy Hughes from the University, arrived at each island they worked with community leadership groups, known as barangays, and their captains who let the team know what type of medical assistance was needed and the numbers of casualties.
Clinics were then put in place which we ran from dawn to dusk, treating mainly wounds which had not been treated and had become infected, chest infections and diarrhoea.