Girls Night Out at Jodrell Bank Discovery Centre
13 Feb 2014
We're looking for all the budding Astronettes, Star-lettes and Cosmic Girls to come and join us for our Girls Night Out (under the stars)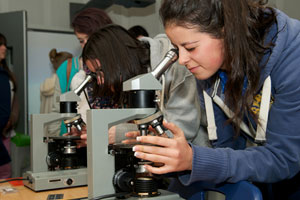 The evening is an opportunity for women and girls of all ages to come and have fun with astronomy and learn more about the night sky.
Evening activities may include:
• Meet our female scientific colleagues from the Astrophysics group and the wider University. 
• Dr Katherine Joy will be giving a talk on 'Investigating the Moon' 
• Discover the night sky in our pop-up planetarium
• Enjoy a tea break, planet cookie decorating and explore the Solar System
So go on treat yourself, your mates, your sisters and your daughters to a girls night out with a difference.
Tickets £12, suitable for 12 years+ 
7pm to 10pm
NB please wrap up warm for the event
Please call 01477 571 766 or visit www.jodrellbank.net to book online.